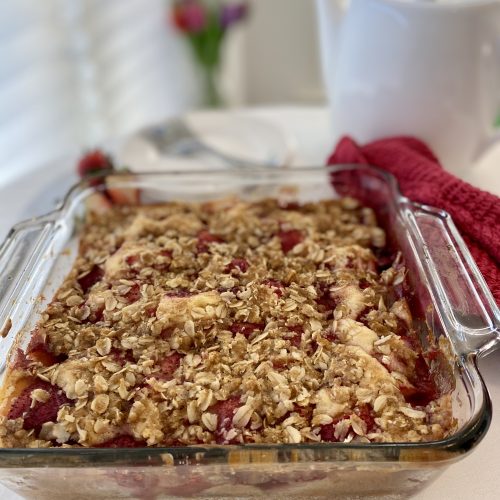 Strawberry Cobbler Cake
A delicious cobbler-style cake which can be made with either fresh or frozen strawberries. The strawberries are scattered over the batter and topped with an oat crumble. Serve on its own or with a small scoop of ice cream.
Ingredients
For the batter
1/4

cup

unsalted butter, softened

3/4

cup

sugar

1

egg (large)

2

tsp

vanilla extract

1 1/4

cup

flour, divided (all purpose flour, whole wheat flour, or combination of both)

1 1/2

tsp

baking powder

1/2

tsp

salt

1/4

cup

plain Greek yogurt

1/4

cup

milk

2

cups

fresh or frozen strawberries (if using frozen, do not thaw)
For the topping
1/4

cup

flour or oats (for a "true" cobbler, you can use flour; I substituted oats for extra fibre and crunch)

1/4

cup

brown sugar

1/4

cup

unsalted butter, cold and cut into small pieces
Instructions
For the batter
Preheat oven to 350F. Grease an 8 x 8 inch baking pan.

In a large mixing bowl. cream together the softened butter and sugar.

Beat in egg and vanilla extract.

In a medium bowl, mix together half of the flour, baking powder, salt. Stir in yogurt. Add remaining flour and stir in milk to form a wet batter. Pour batter into the greased pan.

Arrange the strawberries in a flat layer over the batter.
For the topping
In a small bowl, whisk together oats and brown sugar.

Cut in chilled butter with a pastry blender or 2 forks. The topping will look crumbly.

Sprinkle the topping on top of the strawberries. It doesn't have to be completely even.

Bake for about 40 minutes or until a toothpick inserted comes out clean. If using frozen strawberries, you may need to increase the baking time by 5-10 minutes.