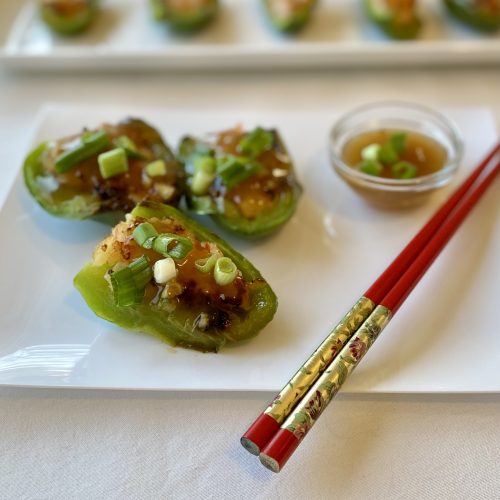 Dim Sum Stuffed Green Peppers
These shrimp stuffed peppers are one of my favourite dim sum dishes! Serve these as an appetizer or side dish (serves 6) or as main dish (serves 4).
Ingredients
340

g

shrimp, shelled and de-veined

2

green onions, plus extra for garnish

1

tsp

sesame oil

1

tsp

salt

1 1/2

tbsp

corn starch, plus more for dusting

3-4

green bell peppers

1

tbsp

canola oil

1/2

cup

chicken broth or water

1/2

tbsp

oyster sauce

1/2

tbsp

soy sauce

2

tsp

cornstarch

1 1/2

tbsp

water
Instructions
Finely mince the shrimp to create a paste. (Fold the minced shrimp over and continue to mince. Repeat this about 10 times until you get a paste. Or you can use a food processor.)

In a bowl, add shrimp paste, chopped green onions, sesame oil, salt and cornstarch. Mix well.

Cut each green pepper into quarters (or more pieces, if pepper is large). Remove seeds. To help peppers lie flat when cooking, trim off the curved ends. (Save these for a stir-fry or salad.)

Dust each piece of green pepper with cornstarch. You can sprinkle the cornstarch into the pepper with a spoon, and then tap the green pepper upside down to remove any excess. Chef Mah's tip (aka my Dad): This helps the shrimp filling to stick to the green pepper.

Spoon in the shrimp filling and press firmly into the pepper.

Heat oil in a skillet over medium-high heat. Cook peppers, stuffing side down for a few minutes until browned. Turn peppers over and cook for another few minutes.

Add 2 T water and steam for a couple of minutes until peppers are tender. Remove lid and continue cooking until all water has evaporated.

To make the sauce: Add broth (or water), oyster sauce and soy sauce in a small saucepan. Bring to gentle boil and reduce to simmer. In a small bowl, mix cornstarch and water to create a slurry. Gradually whisk slurry into the sauce until it thickens.

Garnish stuffed peppers with remaining green onions. Serve with sauce. Enjoy!